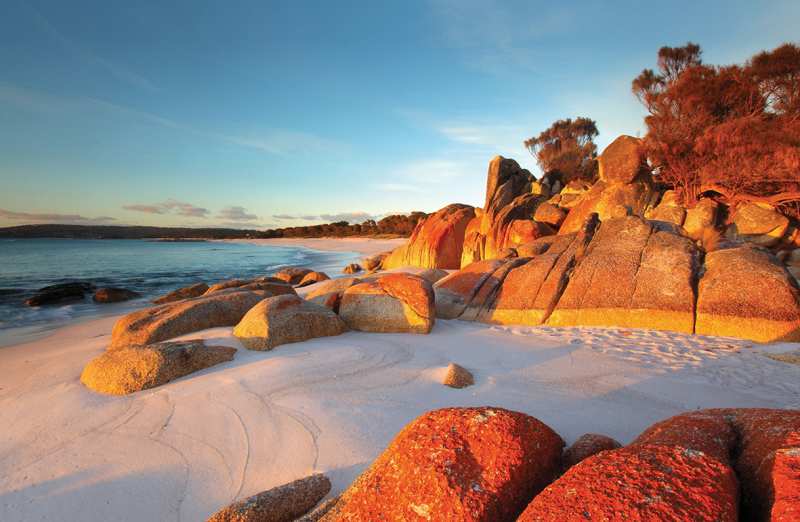 25 Jun

6 Beaches You Must Set Your Foot on Tasmania Holiday Tours

It's no secret that the world is full of beautiful beaches. The surprising thing is that there is one place that rules them all, and that is Tasmania. With powder-white sand, clear water, and some of the world's most unique shapes, Tasmania has some of the best beaches.   If there is one thing you can count on during your Tasmanian adventure, it will be plenty of top Tasmania beaches! Despite Tasmania being an island, it does not lack a coastline, and, luckily for us all, the coastline is dotted with a variety of top-notch beaches.

To help you plan the perfect trip next time, here is our list of the top beaches in Tasmania:
1) Crescent Bay:
Crescent bay is a true paradise located about 90 minutes away from Port Arthur. The beach is among the best in Tasmania for families. This place is special due to its exceptionally curved appearances and superb dunes rising from the sands. Its calm, peaceful ambiance attracts tourists from all over the world.
2) Coningham Beach:
Coningham Beach closely resembles the colorful cliffs of Maria Island. In addition to being one of the most famous beaches in Tasmania, it also provides a calm and soothing swimming environment. With its north-facing location, it is the most protected beach forming all kinds of hurdles. The view of Mount Wellington makes the place shine even more, and Coningham Beach is also deemed one of Tasmania's most dog-friendly beaches.
3) Wineglass Bay:
One of Australia's best beaches, Wineglass Bay is a premier hiking destination in Freycinet National Park. Hiking along Wineglass Bay and Hazards Beach Circuit is a great way to catch a glimpse of Wineglass Bay and the gorgeous beach on the other side of the peninsula. It's 11.5 kilometers long, or a bit longer if you walk along the beach at Wineglass Bay and take the side trails to scenic overlooks.
4) Bakers Beach:
Bakers Beach is a remote paradise only 35 minutes south of Devonport. This long stretch of majestic beach offers a variety of activities. From horseback riding to taking a walk to Archer's Knob or simply sitting up against the beach and soaking up the sunshine, this place feels absolutely perfect.
5) Denison Beach:
Denison Beach is a hidden gem on the East Coast of Tasmania. An expanse of pristine white sand is located a few kilometers north of Bicheno. It is easy to feel completely alone on Denison Beach because it is such a long stretch of sand. It's the best place for a long walk on the beach or a swim, however, you need to pay attention in case the water conditions are treacherous or the sun is too harsh.
6) Binalong Bay:
The beach is actually located at the southern end of the Bay of Fires. This is the perfect place to take a walk, then finish off with a great coffee and view at Binalong Bay Cafe. 
Conclusion:
Take in the sparkling sunshine, soothing aura, and wild atmosphere of Tasmania Beaches, and experience the peace within. Tasmania is a must-see destination for those who want to experience the true joy of traveling.
 Looking to book Tasmania Holiday Tours? Book now with Tasmania Coachlines, the best provider of seamless tour packages across Tasmania at affordable prices.